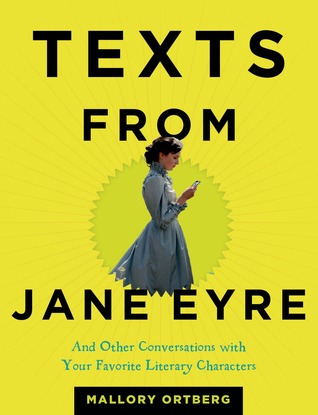 Texts from Jane Eyre: and Other Conversations with Your Favorite Literary Characters
by Mallory Ortberg, 240 pages
What would it be like if texting was available to Hamlet, John Keats, or, obviously, Jane Eyre? It would very well be something like what Mallory Ortberg has written here. An example, with Edgar Allan Poe:
hey
where are you?
hi
where are you?
you're like two hours late
it's almost midnight
i can't get out of the house right now
is your car blocked?
do you need a ride?
no
it's like
there's this bird
there's a bird on your car?
no he's sitting on my statue
it's like
mm it just keeps looking at me
got those fiery bird eyes
you know?
what?
And so on. What makes so many of these great is that she manages to get a lot of the feeling of the original source material into these imagined text conversations (the one with John Keats going on about his urn is a personal favorite), even when she's not deliberately referencing a certain book or story. Some of the conversations went a bit over my head since I wasn't familiar with the story or characters, but if you were an English major or are a big fan of the classics, this will probably amuse you.